Here's what you can expect to learn through the TCAT:
How well you are integrating new members into the life of your church
How well members understand the vision and mission of your church
How they perceive the leadership of the church
How they feel about the small group ministry (Sunday School, small groups, etc.)
How meaningful their worship experience is
How they approach the lost within the local community
How prayer fits into their daily lives
Attitudes about lasting relationships between members
How they think they should engage the community
How do I get my leaders up to speed on this quickly?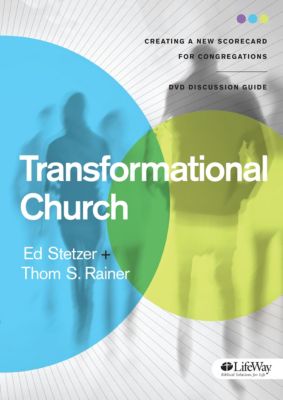 Convey the concepts in Transformational Church to your church leaders quickly, easily, and affordably using the Transformational Church DVD Discussion Guide. The kit includes a DVD and CD-ROM (with a listening guide) that leads your team through six sessions.
Video from Thom Rainer, Ed Stetzer, Bruce Raley and Philip Nation is featured in each session.
Teaching DVD 6 sessions, 30 minutes each.
Teaching element: 20 minutes with Ed Stetzer and Thom Rainer introducing principles and connecting with pastors, staff members, and lay leadership.
Application element: 10 minutes with Philip Nation and Bruce Raley talking to leaders about how to unpack key principles of teaching from the perspective of their experience as church leaders.
CD-ROM with discussion helps for church staff and church leadership teams.
Listening Guide for church leaders to use for taking notes.
Discussion Guides for leaders to use immediately following the video presentation.